LIFE+IMAGINE focuses on the coastal area, a zone of intense human activity and of interchange between physical, biological, social, cultural and economic processes. It is composed of multiple interacting systems. Changes, at any point and in any part of the system can generate chain reactions also far from their point of origin.
LIFE+IMAGINE focus is given on two environmental scenarios, soil consumption and landslides in coastal zones, which are representative of major problems affecting the Mediterranean coasts. In the last ten years, in fact, the combination of two main factors, such as the anthropogenic soil sealing due to wild urbanization and the intense rainfall events, has deeply modified the real territory and strongly increased the occurrence of floods and landslides in populated areas.
LIFE+IMAGINE implements four different pilot applications in the Italian regions of Liguria and Toscana, which are among the territories that best represent and demonstrate impacts and consequences by landslides and soil consumption. In the following a brief overview of the pilot applications.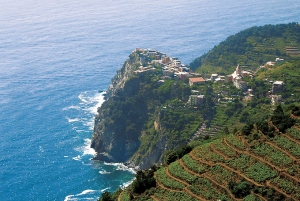 "Cinque Terre" in the Liguria region
Liguria Pilot Sites
The Liguria pilot application for Landslides scenario is located in the "Cinque Terre" and namely in the municipalities of Monterosso and Vernazza. In October 2011 the area was affected by extreme rainfalls which triggered debris flow and landslides, causing great damages to the buildings and infrastructures and the death of several people.
Liguria pilot application for Soil Consumption scenario is located in the Tigullio Area (eastern part of Genoa Province), having more than 100,000 resident inhabitants and a coastline length of around 40km. This is a highly urbanized area with also a touristic vocation and coastal management problems.
Toscana Pilot Sites
Toscana pilots, for both the scenarios on Landslides and Soil Consumption, are located in the NW part of the Region (in the areas known as Lunigiana, Versilia and Garfagnana), having altogether a coastline length of around 60km. In these zones the connection between landslides and meteorological events is a very strategic aspect to consider, because of territory characteristics. This part of the region has been also affected by significant changes in relation to land cover, moreover considering their impermeable coverage.